Closed School Street for Walking and Biking to Whittier
Posted:
Walking and Biking to Whittier
What is a School Street?
School Streets are open for people walking, rolling, and biking, and closed to pass through traffic, including parents. The goals are to:
provide social distancing space for daily attestation at school start times
reduce traffic congestion in front of schools
encourage families to walk or bike to school or park a few blocks away and walk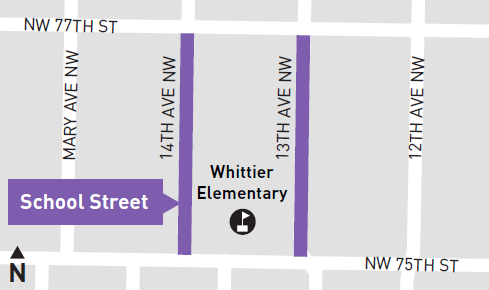 When is a School Street in effect?
School Streets are in effect 7 a.m. – 5 p.m. on school days.
With the designation of School Streets, it becomes okay to walk in the street to keep 6 feet apart.
How can I use a School Street when taking my child to and from school?
When possible, walk, roll, or bike with your child to school
If you must drive to school, try parking 1 block away and finishing the trip on foot
Students provided with district transportation or with mobility needs can access the block
Learn more about safe routes to school on the directions and map page.